Travelblogs
Several ODIOM students choose to study abroad for a semester. Do you want to know how that goes and what they experience there? Then check out these blogs and vlogs!
Watch the vlog of Mia Češljić here!
Mia studied in Birmingham for the past semester (1st semester 2022-2023). Mia is currently in her third year of the AOLB.
Check out Anne Huiskamp's blog here!
Anne studied in Budapest for the past semester (1st semester 2022-2023). Anne is currently in her third year of the AOLB.
The experiences I have had in Budapest are too good to describe. That is why I have made a collage, which cannot yet encompass what I have experienced abroad. I've been able to build memories and friendships for life. The only way you can form an image is by experiencing it for yourself. I also recommend this to everyone! I have been able to learn a lot on a personal and cognitive level. I have improved my independence (by living in a new city and by traveling a lot in the area and neighboring countries of Hungary), my English and my understanding/respect for other cultures. The courses I took at the University of Budapest (ELTE) were focused on people with disabilities. The content of the courses was often very broad, so there was always an aspect that interested me. I have been able to have conversations with many interesting people and make assignments on topics that fascinated me very much. Reflecting on the six months in which I was allowed to be an Erasmus student, I am very grateful for all the educational and fun moments I have been able to experience! If you want to travel to Budapest, you can always contact me, so I can tell you all the ins and outs!
Love
Anne Huiskamp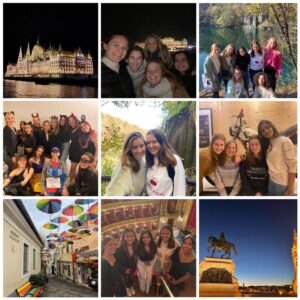 [ID] A collage of nine images can be seen. The collage contains several photos of Anne standing up with friends. Furthermore, there are a number of images of tourist spots in Budapest.